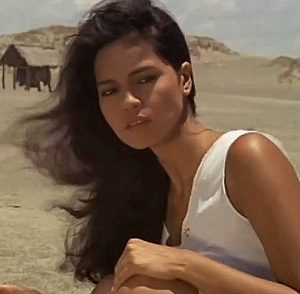 Sarsi Emmanuelle was a popular bold actresses of the 80's. Born Maria Jennifer Obregon Mitchell, she studied in Catholic school and had a good family upbringing in Manila. However, her parents separated during her teenage years, and she discovered her wild side. She began a relationship with a much older man, and took work as a go-go dancer in several Manila beerhouses. When she was 20, she was discovered by Rey dela Cruz, her mother's optometrist who was also a movie talent scout. "Rey approached me and asked me if I wanted to join showbiz," Sarsi later related. "I thought there was no harm in trying so I took the opportunity." Dela Cruz gave her the screen name Sarsi Emmanuelle, and she became part of a popular trio -along with Pepsi Paloma and Coca Nicolas– nicknamed by del Cruz as the "softdrink beauties." In a short time, Sarsi went from earning just P3,000 a month dancing, to an asking price of P300, 000 per film at the peak of her success.
Her movie debut was in the film Brown Emmanuel in 1982. A string of bold films followed, all of which were commercial successes, and some of which were critically acclaimed as well. In 1984 she was nominated for the Gawad URIAN Best Actress award for her role in Tikoy Aguiluz's movie, Boatman.
In the 1990s, Sarsi disappeared from the limelight. "I wanted to live a normal life again -that's why I left showbiz," Sarsi said in an interview years later. "I wanted to be able to do ordinary things again like shopping or riding a jeepney without creating a commotion." She invested her acting money in several business attempts, none of which were successful. She was last reported living a simple life as a cashier for a booth in a carnival fairground (perya).